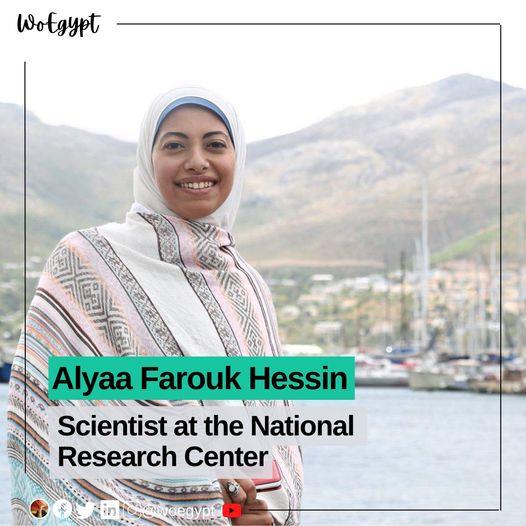 Alyaa Farouk Hessin, Scientist at the National Research Center of Egypt.
Alyaa Farouk Hessin is a researcher responsible for conducting pre-clinical research on experimental animals in order to prevent or treat prevailing diseases in Egypt.
Although Dr. Alyaa has research in diabetes, depression, hypertension, and liver fibrosis; her research focus is cancer. She worked on treatment and prevention of cancer for more than ten years and was able to reach promising results that were published in international journals. She got her PhD in developing cancer vaccines from University of Illinois in Chicago, and she won the global scholar award of the American Association of Cancer for her significant contribution in the cancer field.
Moreover, Dr. Alyaa did a postdoctoral fellowship in Tulane University- Department of Surgery in the US and the American Board of Pharmacy concurrently. She was able to curb melanoma and thyroid cancer progression through testing new anticancer drugs on mice. Dr. Hessin works in many international and national research teams and is a frequent speaker in scientific seminars and an alumnus in many universities around the globe.
Apart from scientific research, Alyaa is well known for her developmental activities; she obtained a Master of Public Administration from the American University in Cairo. Since then, she works actively to fight poverty in upper Egypt through supporting sustainable development projects. In addition, she developed a system to protect teenagers from possible street assaults. Last but not the least, Alyaa and her colleagues developed an online system to assist researchers in finding and developing scientific research ideas. Dr. Alyaa's hope is to find a remedy for cancer and to eradicate poverty through sustainable development.
Dr. Alyaa's TV Interview Link: https://www.youtube.com/watch?v=JYMIT6lUkFc
https://www.facebook.com/watch/?v=292785332922925&extid=NS-UNK-UNK-UNK-IOS_GK0T-GK1C&ref=sharing
Dr. Alyaa's Online Interview Link: https://www.cairo24.com/1526347?fbclid=IwAR3j1LktbcVx-DfvkSWk16HwQpZDup63GnrzXTE_-3JuodfieGpBIIT72Bw